PLANNER'S PERSPECTIVE
PROVEN ADVICE FROM A WED
By Lindsey Nickel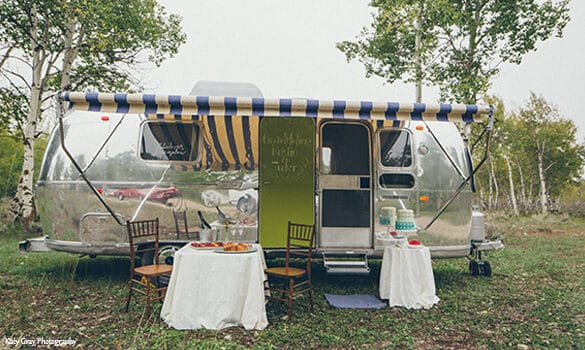 Working as a wedding coordinator is one of the best jobs in Jackson. It allows me to spend time outside, exercise my creative mind, work with diverse people, and play a part in one of the most important days in a couple's life. This year, my lens changed; I planned my own wedding.
Right after announcing my engagement, the jokes began. "Do you know any good wedding planners?" As the date in September grew closer, the question became, "What is it like to be a wedding planner planning your own wedding?" My response to the latter is, "I now have a lot more perspective on what it feels like to be the client."
To plan my wedding, I took everything that I saw, experienced, and liked from client weddings, added some personal touches, and wove that into a wedding day my husband and I will cherish for many years. Combining my professional and personal wedding planning experience, I have a fresh perspective to offer on what is important when it comes to wedding planning.
Hire dedicated professionals
One of the steps a bride-to-be can take to ensure a low-stress, super-fun wedding is to hire professionals. Although asking your college friend to serve as your photographer (or day-of coordinator or DJ) may seem like a cost-saving, special way to involve him/her in your big day, it rarely works well. Allow your friends to experience your wedding as guests, and hire people for services. Do your research on local vendors; Jackson has many talented professionals to fit a range of budgets.
Love your dress
Confession: This is a tip I read online; and at first, I didn't think my wedding dress was something I would love. However, I discovered it is truly important to love your dress. Your wedding day is a day that you feel on top of the world, and a dress you love is the final touch that makes you radiate with happiness and confidence. Don't forget to take it to a professional tailor, so that it fits perfectly.
Focus on a few personal touches
There are many details that go into planning a wedding, no matter the size. I must admit, it was overwhelming at times when planning my own wedding. To keep my stress level down, I focused on a few details: a personal and polished paper suite, locally made gifts for the wedding party, and a menu that reflected our love of seasonal foods. By choosing a few pieces to put extra effort toward, I was able to add personal touches without completely stressing out that every last detail wasn't perfect. In the end, the elements that I put the most effort into were the ones our guests found most memorable.
Hire a day-of coordinator
There is great value in hiring a professional to tend to the day-of details. This professional can direct the other vendors, answer questions, make last-minute decisions, and keep the events running smoothly. It permits the couple to remain focused on the wedding celebration instead of the event details and logistics.
The bride's hair is first
I have worked and attended countless weddings that start late because the bride's hair takes longer than expected. I did not want to be rushed for the ceremony, so I decided to have my hair and makeup done before my bridesmaids'. This allowed me to enjoy time with my friends and family prior to the ceremony. You can always touch up just before walking down the aisle.
Lower your expectations
My clients who positively glowed and said their wedding was the best day of their lives all had one thing in common—realistic expectations. I took this approach and can honestly say the wedding day was perfect. If your expectations are too high, they will never be met. You will be a ball of anxiety, stressed during the planning and preoccupied on the wedding day. The reality is that not every last detail will be exactly as you imagined, but your guests will never know that. Embrace your celebration; it will be beautiful, fun, and more memorable than you ever imagined.
---
Lindsey Nickel owns and operates Events, Etc., a boutique wedding planning company that specializes in "day-of" coordinating and consulting. Events, Etc., prides itself on providing personal service, paying particular attention to the details, and getting to know each client like a friend. You can reach Lindsey by calling 510-517-1269, visiting her website at www.jheventsetc.com, or learn more by reading her blog at jacksonholeweddings.wordpress.com.