An Edible Arrangement
Jessica & Mark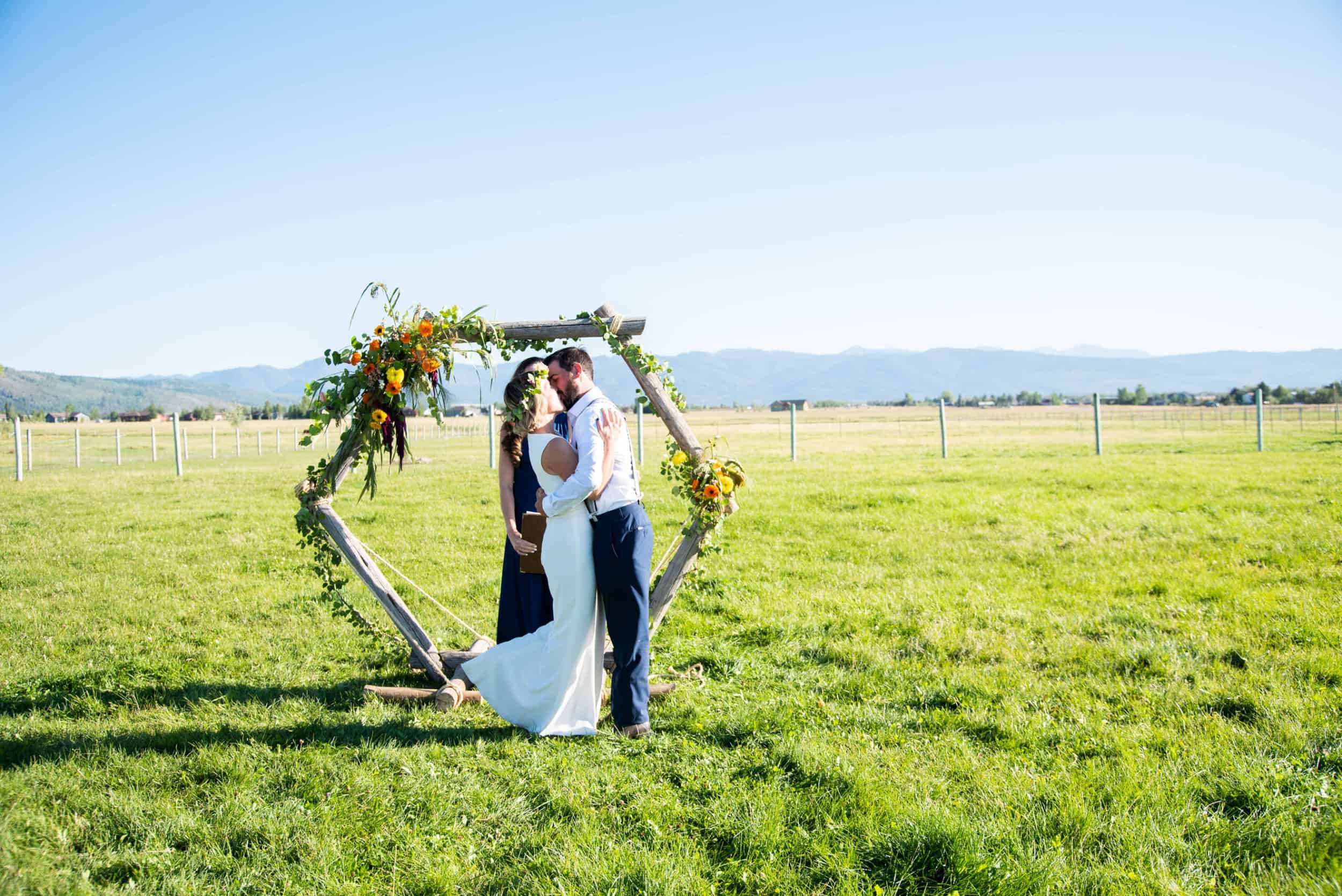 Life is always better with Mark around! He has a laugh that fills a room, is easygoing, and loves to have a good time. He and I met through our mutual best friend, Jenny, while playing ultimate frisbee in Washington, DC. After a few unofficial dates, we started sneaking in more and more time together, careful not to share our secret with our friends in the event things weren't too serious. Mark was well respected (and sought after) in our circle, so I wanted to be sensitive to everyone's feelings. At the same time, I was going through a rough patch personally, so I wanted to take things slow. As it turns out, working through life's tough times together results in a very strong bond. I knew I loved Mark deeply when it became apparent he could make me happy during my darkest moments.
Telling our friends about our new love turned out to be so much fun! The reactions ranged from happy tears to a girlfriend finishing my sentence and not being surprised at all. We both deserved happiness.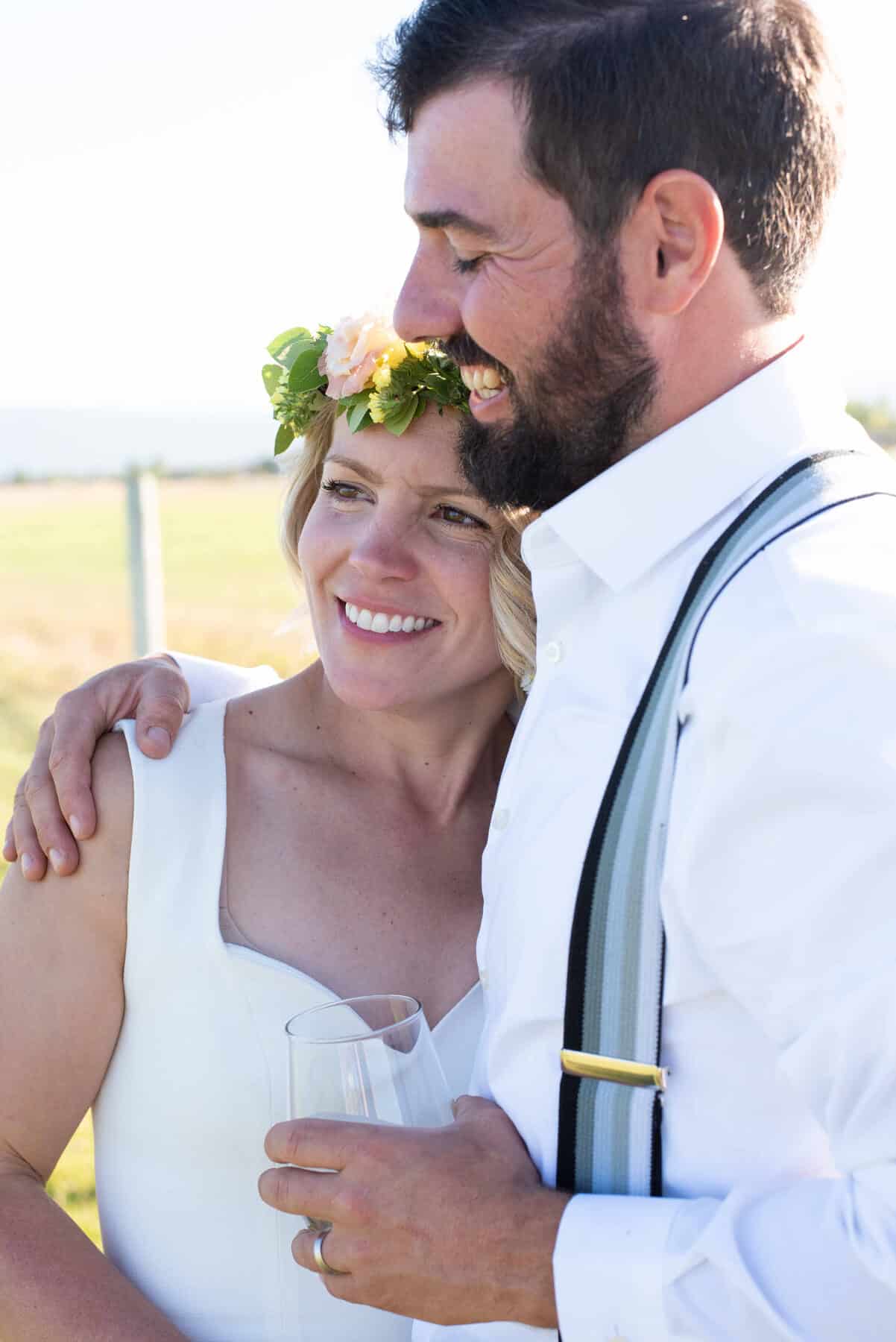 Fast forward six months, and Mark happily joined me on my annual goat "Snuggle Session" visit to Caromont Farm in Charlottesville, Virginia. While witnessing the goats himself, Mark was all laughter and smiles, making my heart grow even fonder of him. (I have a thing for goats, and my passion is often surprising to other city dwellers.) We had a such a great time during that trip that Mark couldn't wait to come back the next year.
As time passed, we grew closer and started talking about our five-year plan. Mark's family lived in Idaho, mine in Wisconsin, and we ultimately decided we'd move west someday if we were given the opportunity to purchase land we could farm. In passing, Mark mentioned we could always get married on a goat farm in Idaho. (Mark, goats, and marital bliss? Yes, please!)
Naturally, I started researching venues to see if I could make our dream come true. I stumbled across Winter Winds Farm in Victor, Idaho. The website didn't exactly display information about hosting events or weddings, but it did say that the farm was for sale (and in Idaho). I immediately contacted the owner to confirm this wasn't "fake news" because the website and the farm's FAQs page really spoke to me. The owners, Nate Ray and Ginny Robbins, got back to me with the details of the sale. I immediately shared them with Mark, even though, at the time, I wasn't sure buying a farm was feasible.
Later that night, Mark asked if I spent my day dreaming about living on a goat farm. I said, "no," because I wasn't going to waste the time thinking about it, without talking to him first. He mentioned that it might be doable and that we should look into it. My jaw dropped.
Nine months, twenty consultants, five financial institutions, one pandemic, and one rescue pup later, our financing was approved and we were moving to Victor.
The first year on our farm in Idaho was a trying one. We learned how to work with one another, as well as with the farm's team and the goats. We attended farmer's markets, adjusted to a new time zone and a significantly snowier climate, and navigated our very first kidding season. That spring, we discussed planning a wedding, as we wanted to have kids of our own someday soon. Mark proposed in May, after giving me a long speech with a [goat] kid in his arms (I wanted a long speech), and presenting me with a custom ring, crafted by JC Jewelers, and made with my grandma's diamond. (JC also made Mark's custom wedding band by melting my mom's wedding ring.) Then, we kicked our rustic farm wedding planning into high gear.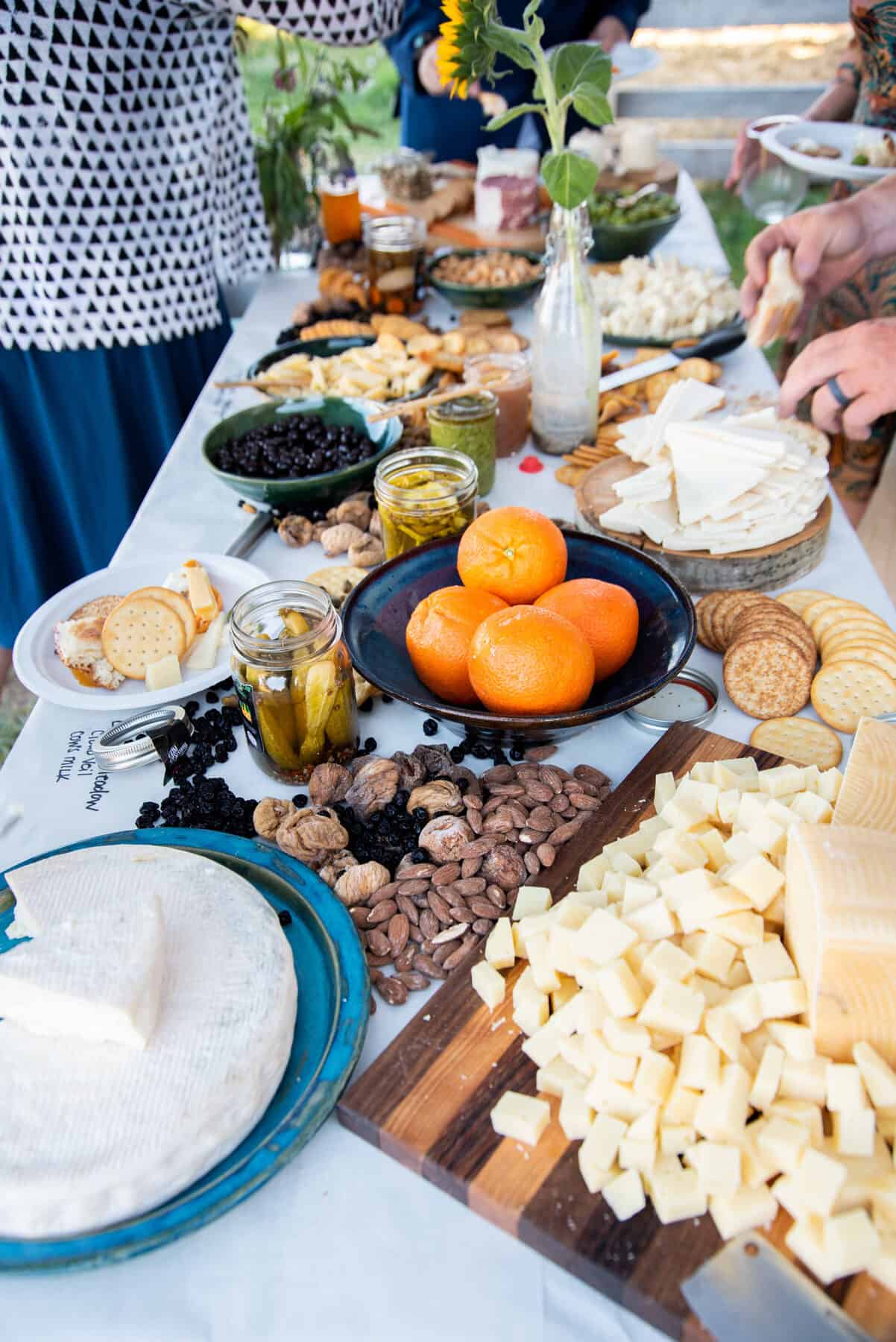 One hundred friends and family attended our special farm-to-table wedding. We served a cheeseboard featuring our own goat cheese and Lark's Meadow Farm's sheep cheese, and, in lieu of gifts, we asked friends and family to bring a side dish to go with the main course: whey-fed pulled pork, with whey from our cheese, cooked by Sweet Cheeks Meats in Jackson. We served pies we baked ourselves, and showcased a towering wedding cheesecake made from our farm's 5-pound cheese wheels.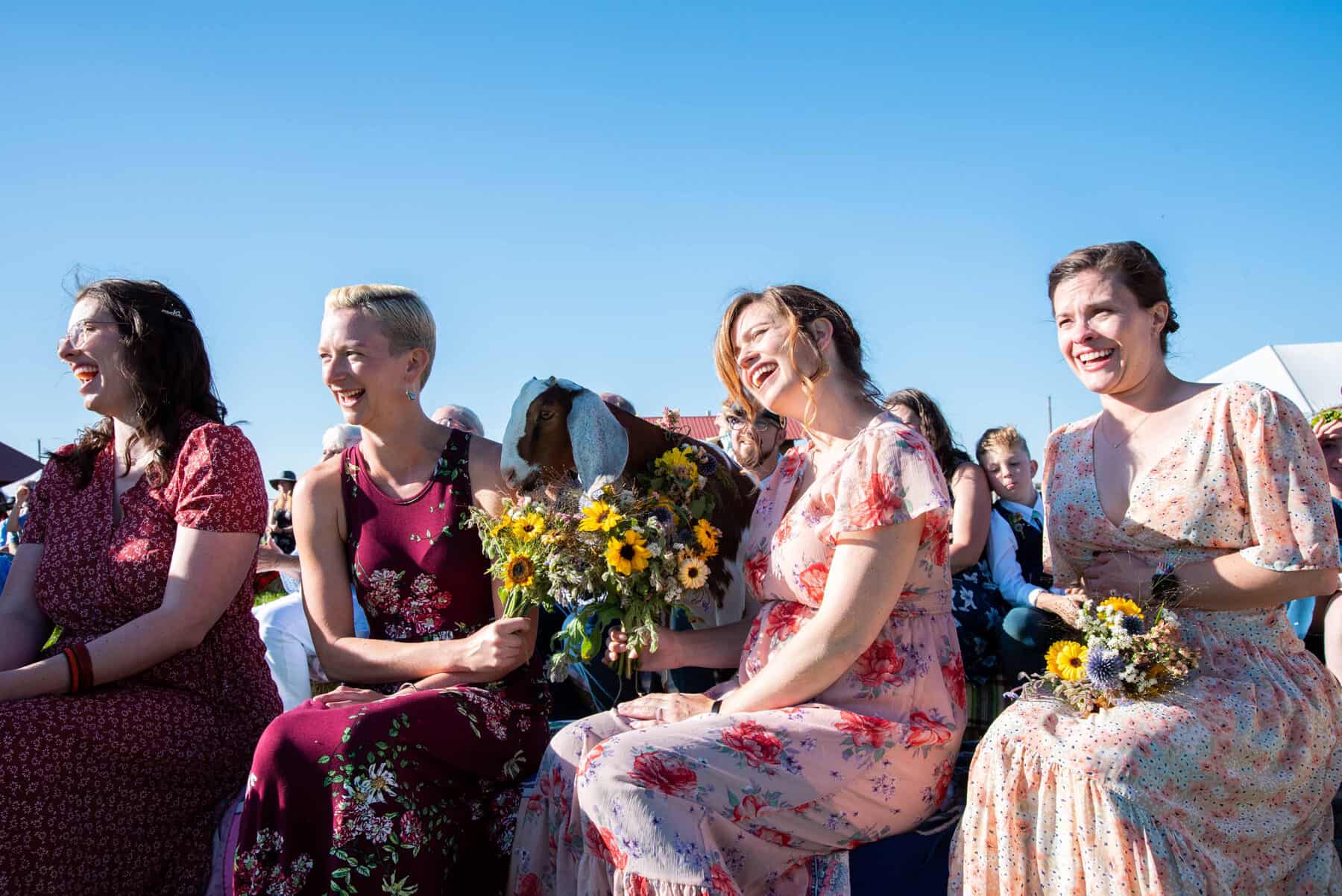 Five goats were escorted down the aisle during our ceremony, all donning edible flower necklaces, care of Red House Flowers. Mark and I recited our own handwritten vows and called for blessings from our guests. All the while our goat, Lu, munched on the edible bouquets and boutonnieres. Sure, it was nice that we got married, but Lu really stole the show!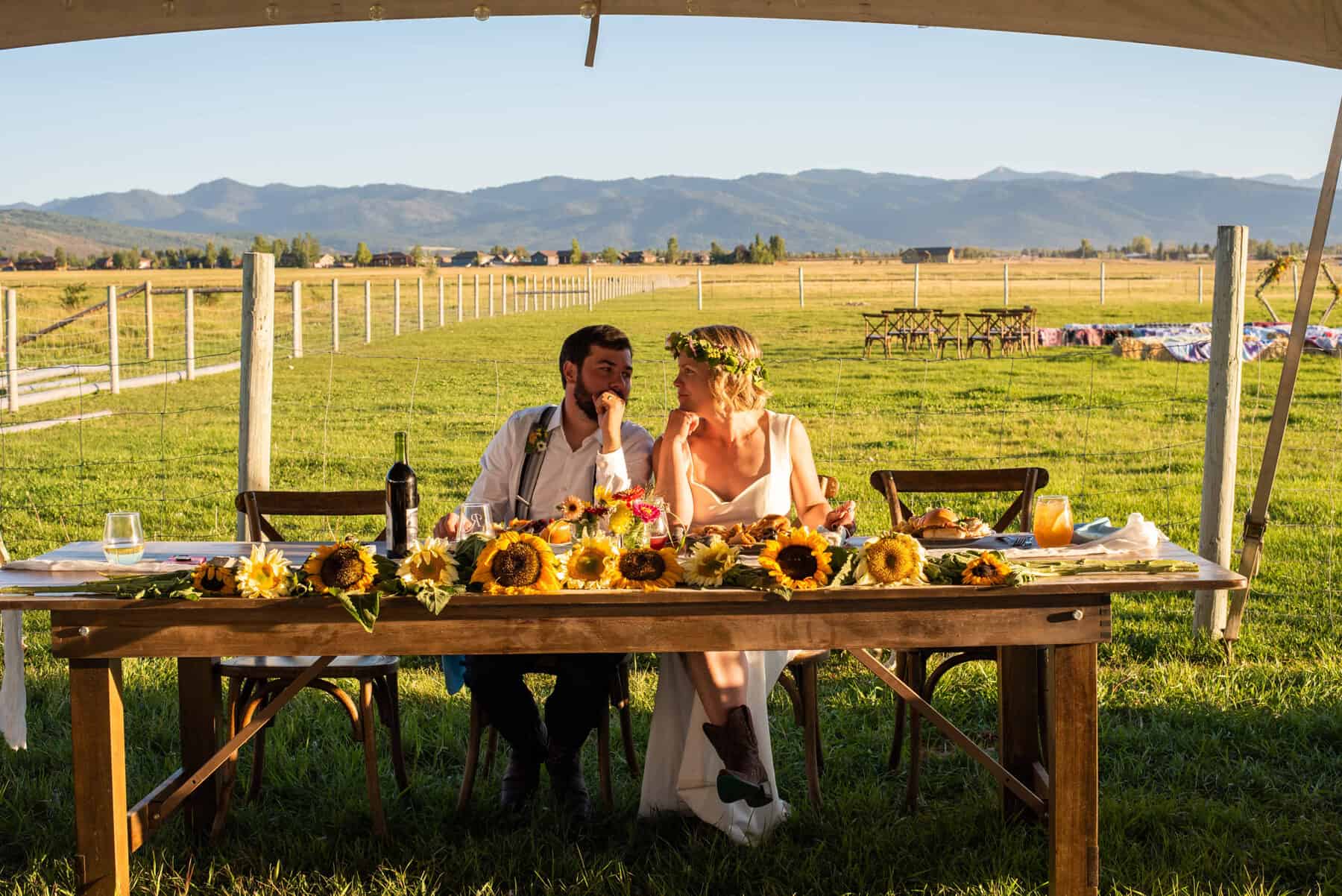 ---
Make time in the planning for reflection
Figure out what is important to both of you, individually, and then compare lists. Check out the wants that overlap, and go all in on them. For everything else, exercise your compromising muscles. Remember, weddings are all about combining two lives, not about the color of the napkins or the length of flower stems. Our must-haves: Goats. Cheese. A live band.
P.S. Consider getting married on a farm (like our farm, Winter Winds). Your investment will support the animal's care, as well as the local community, through the wonderful products they provide.
THE DETAILS
Wedding Date: August 28, 2021
Ceremony and Reception Location: Winter Winds Farm, Officiant: Mutual Best Friend, Jenny Buzzi, Photographer: Frances Conner, fhc creative, Hair: Atlas Salon, Washington, DC, Makeup: Jessica Konrath, Florist: Red House Flowers, Rings: JC Jewelers, Music: Marmot Ate My Boots, Caterer: Sweet Cheeks Meats, Winter Winds Farm, Lark's Meadow Farms, Dessert Chef: Winter Winds Farm, Rental Service: Signature Party Rentals, Sky High Rentals, Stationery Design: punchbowl.com