A Wyoming Lake Day
Meredith & Braden
Words by Meredith Runkle + Photography by Rebekah Bronwen
Braden and I got to know each other through mutual friends from church. In a group setting, we would spend evenings chatting at The Bird or nights swing dancing at the Cowboy Bar. Little did we know our friends were trying to set us up.
Unlike many couples, our first date was not a fancy dinner at a fine-dining restaurant. Instead, we took a trip to Canada. On a sudden whim after work one Friday, we decided to drive 14 hours to Banff for Labor Day weekend. Considering that we barely knew each other, a long car ride and multiple days of backpacking in the wilderness may not have been the best idea. However, our spontaneous decision paid off. Our adventurous and goofy spirits connected, and we quickly became best friends.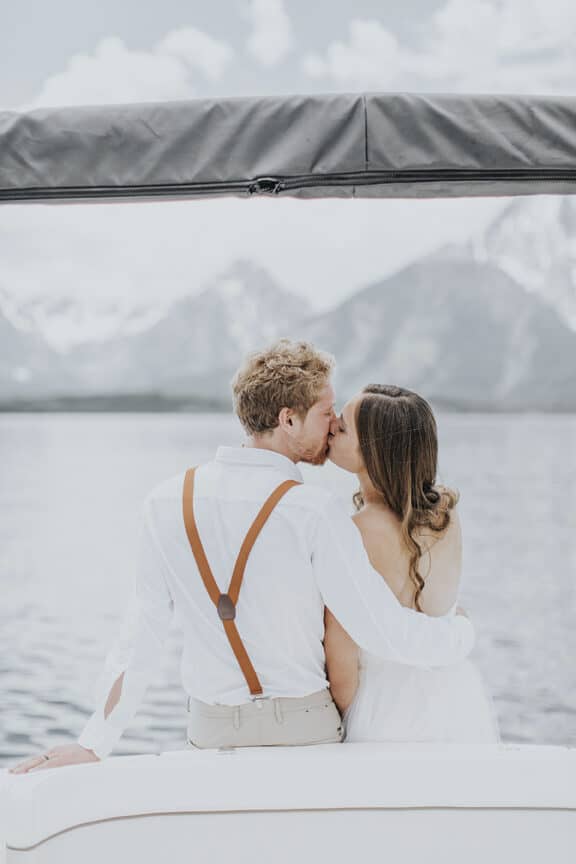 To us, transitioning our casual friendship to a lifelong commitment of friendship through marriage was a no-brainer. One March day with the snow-capped Tetons as a backdrop, Braden asked me to marry him. We picked a wedding date four months later in July, when we could tie the knot on a warm, sunny summer day.
Given that our first date was a trip to the Canadian wilderness, our personalities did not align with a traditional wedding. Brainstorming turned into concrete plans and before we knew it, our wedding was taking shape. We chose Elk Island on Jackson Lake as our venue. Local friends and family graciously volunteered to transport guests on their boats to our ceremony and reception on the island.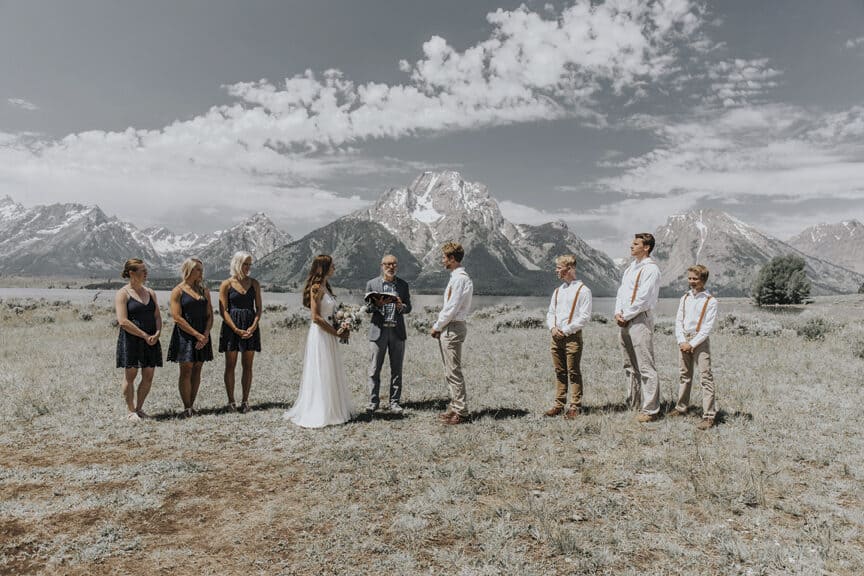 Mount Moran loomed behind us and Jackson Lake glistened as we exchanged our vows and rings, and the Tetons stretched around friends and family members when we walked down the aisle as husband and wife. After the ceremony, guests enjoyed a picnic lunch, yard games, and speeches from the bridal party before heading down to the boat dock for the first dance. We danced with our parents for one song and then danced with each other for the next while everyone watched from the wooden dock or aboard various kayaks and paddleboards on the lake. Unbeknownst to the guests, we planned to jump in the lake—clothes and all—immediately after our first dance. As soon as we hit the water, laughter and exclamations erupted, thus commencing our lake activities.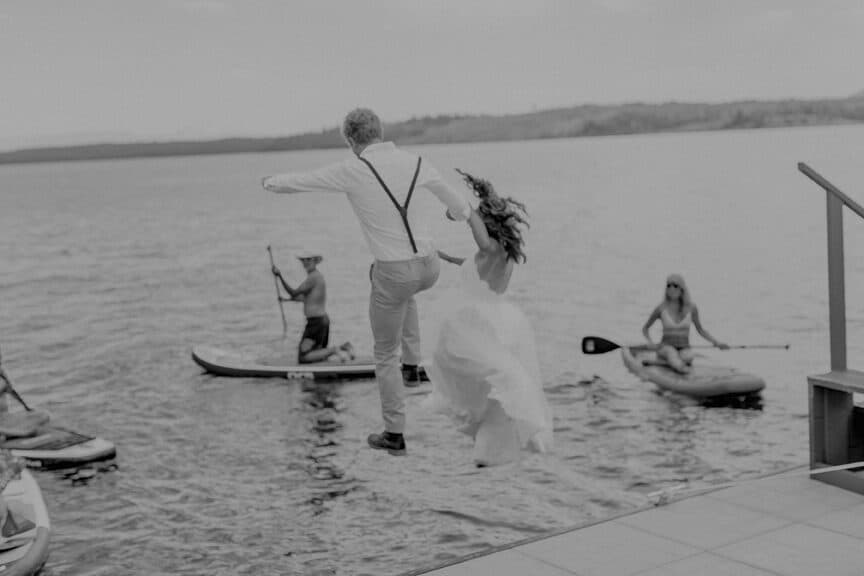 We couldn't think of a better wedding backdrop than Grand Teton National Park or better people to share our special day with than our closest friends and family members. 
---
wedding date
7 July 2018
ceremony & reception location
Elk Island
officiant
Pastor Brian Hunter
hair & makeup
Ashlyn Beck & Sydni Seder, Bride's friends
photographer
Rebekah Bronwen
florist
Emily Runkle, Laura Martin, and Amber Grammer, Bride's sisters
caterer
Creekside Market
dessert chef
Colleen Olson, Mother of the Groom
stationery design
Minted.com
paddle board rentals
Leisure Sports