A First Look with a Twist
Christina & Robert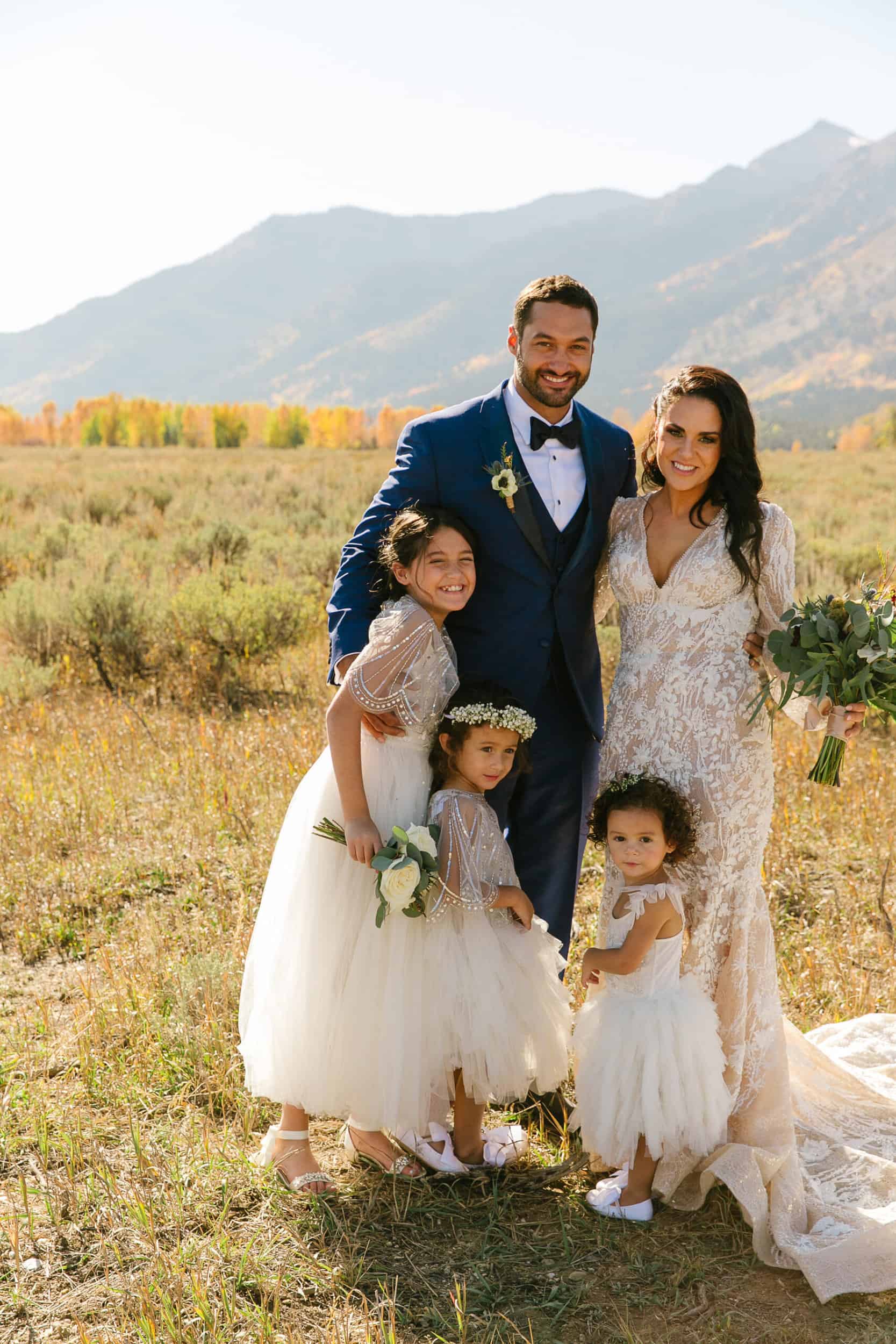 We met in late 2010 when I was working as a bartender in downtown Milwaukee, Wisconsin, and had just moved back from Iowa. Bob owned a bar up the street, and one night he came in with his friends and ordered some whiskey shots. Eleven years, three kiddos, and two dogs later, Bob decided to propose when we went out on a dinner date. (I actually made a TikTok about how long I waited for the ring as a joke, and it went viral.)
We knew we wanted to have a destination wedding—something small and completely about us. We also didn't want our wedding to mimic something that we had already seen before (like a beach wedding in Mexico or Hawaii). So, when Bob and I visited Jackson Hole in May of 2021, we decided—flying into the picturesque little airport—that a wedding in the Tetons matched our vision perfectly. This would be the place that we'd legally become a family of five.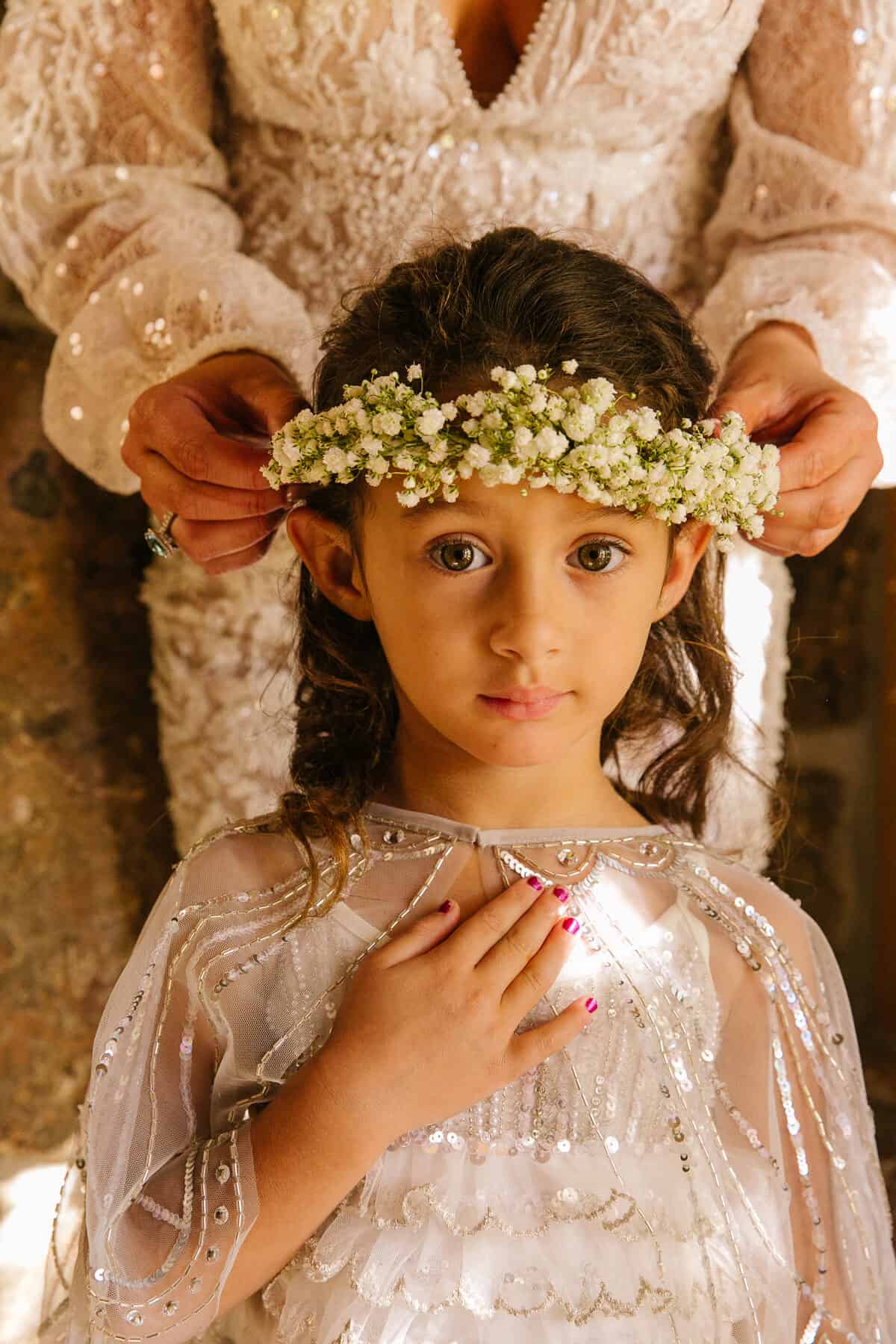 Bob was rather hands-off with the wedding details; however, he chose the color pallet, and I took it from there. I tried to focus every detail of the wedding on us, our daughters, and the breathtaking backdrop of the Teton Range. The day was particularly special. Not only did I get to marry my best friend in front of seventy of our closest friends and family, but our daughters Avery (nine), Elliotte (three), and Eloise (two) made up our wedding party.
We included an appetizer buffet dedicated to food from my hometown of Milwaukee, Wisconsin, (brats and deep-fried cheese curds) and from Bob's hometown of Chicago (Chicago Dogs and Italian beef sliders). Our welcome bags featured local Wyoming and Teton-based goods, like Grand Teton Brewing root beer and Wyoming Gourmet Beef Co. jerky. We included maps and brochures of Jackson and Yellowstone in the bags, as well as a guestbook that showcased vintage Wild West postcards on which guests could leave some words of love.
Every vendor we worked with was top-notch as they made our vision come to life. It was especially professional how they handled the logistics of taking my ideas, which I emailed to our planner, Alison Kyle, from Milwaukee, and then communicating with each other in Jackson Hole to pull off the perfect day.
Steady Jake DJ took the time to meet with us two days before our special day, specifically to splice our voices together for a voice-over he played right before we made our grand entrance into the reception. And Taylor Mountain Films and our photographer, Hannah Hardaway, helped me pull off a complete surprise for Bob.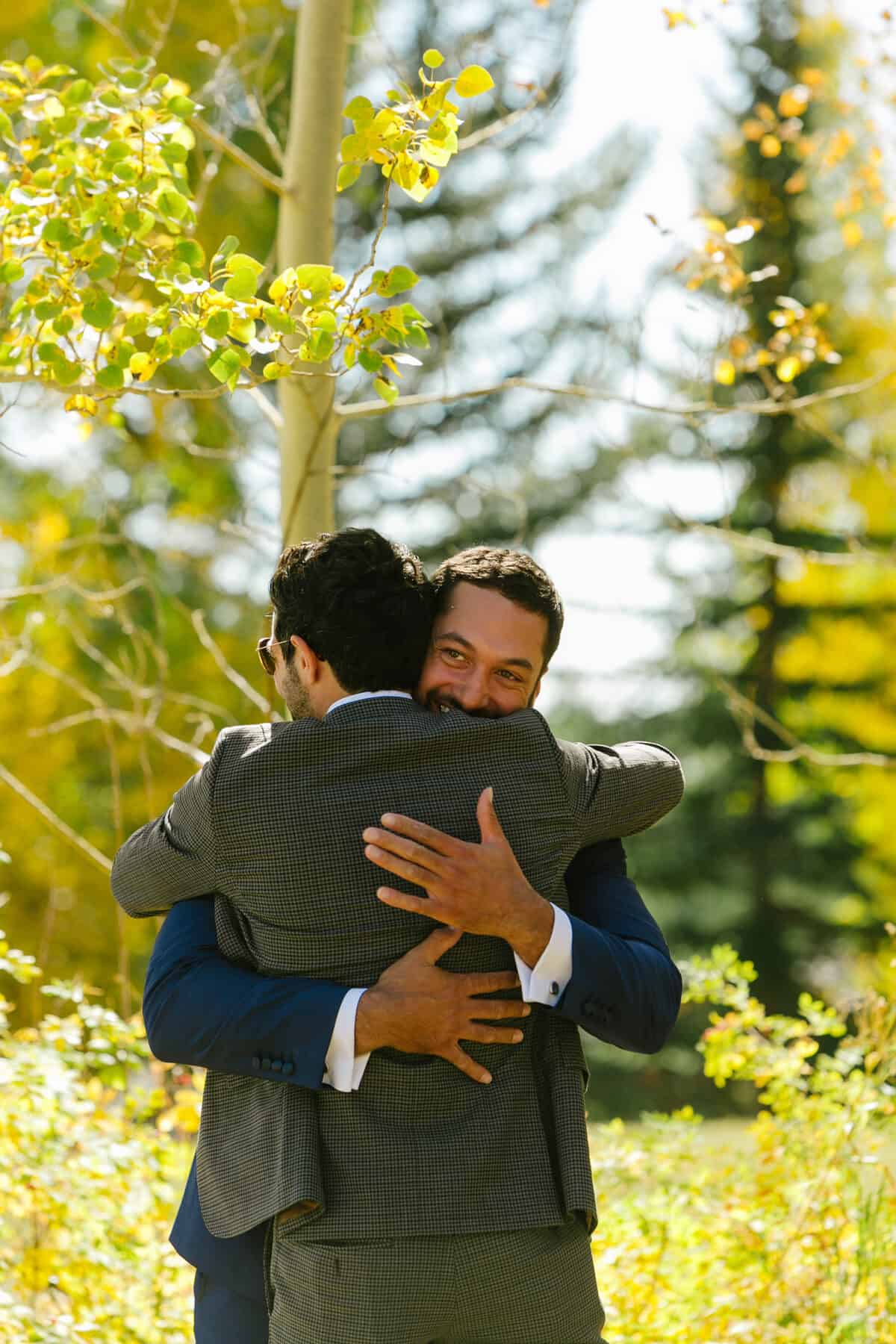 Bob thought one of his best childhood friends, Tony (they went to college together), wasn't going to be able to attend the wedding at all, as Tony's brother-in-law was getting married the same weekend in Salt Lake City. I coordinated with Tony and managed to fly him in for the ceremony only, surprising Bob during the first look. That day, Tony flew into Jackson, drove to our condo, and hid in the car for about twenty minutes until we were ready. Then, instead of me, Tony became the other person in the first look. (I'm pretty sure they both teared up.) After the ceremony, Tony hopped into his rental and drove to Salt Lake City to stand up at his brother-in-law's wedding.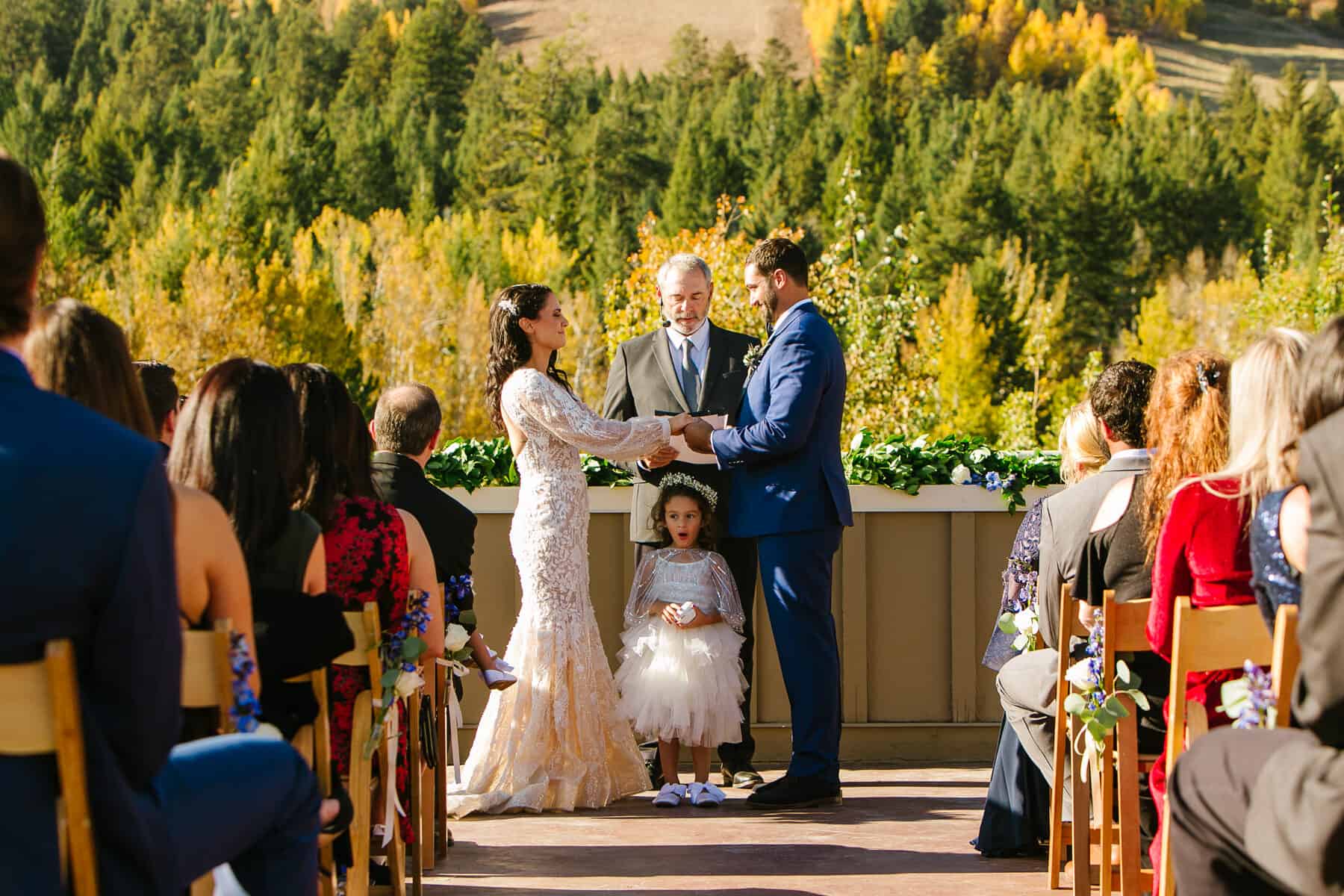 After the ceremony and before we were officially pronounced husband and wife (funny story … Our littlest daughter, Eloise, hit a brick wall during the ceremony and started screaming, "I wanna go home."), we decided to take advantage of the phenomenal view from the top of Teton Mountain Lodge & Spa. The staff brought out these amazing cocktails complete with stir sticks I found on Etsy that said "The Kings" (our married last name). Everyone toasted us as a married couple, with Jackson Hole Mountain Resort as our backdrop.
I truly would not do a single thing differently, from the location to the venue and the vendors. Wyoming—specifically the Jackson Hole and Teton area—will always hold a special place in our hearts. For that, we can thank everyone responsible for a flawless destination wedding day.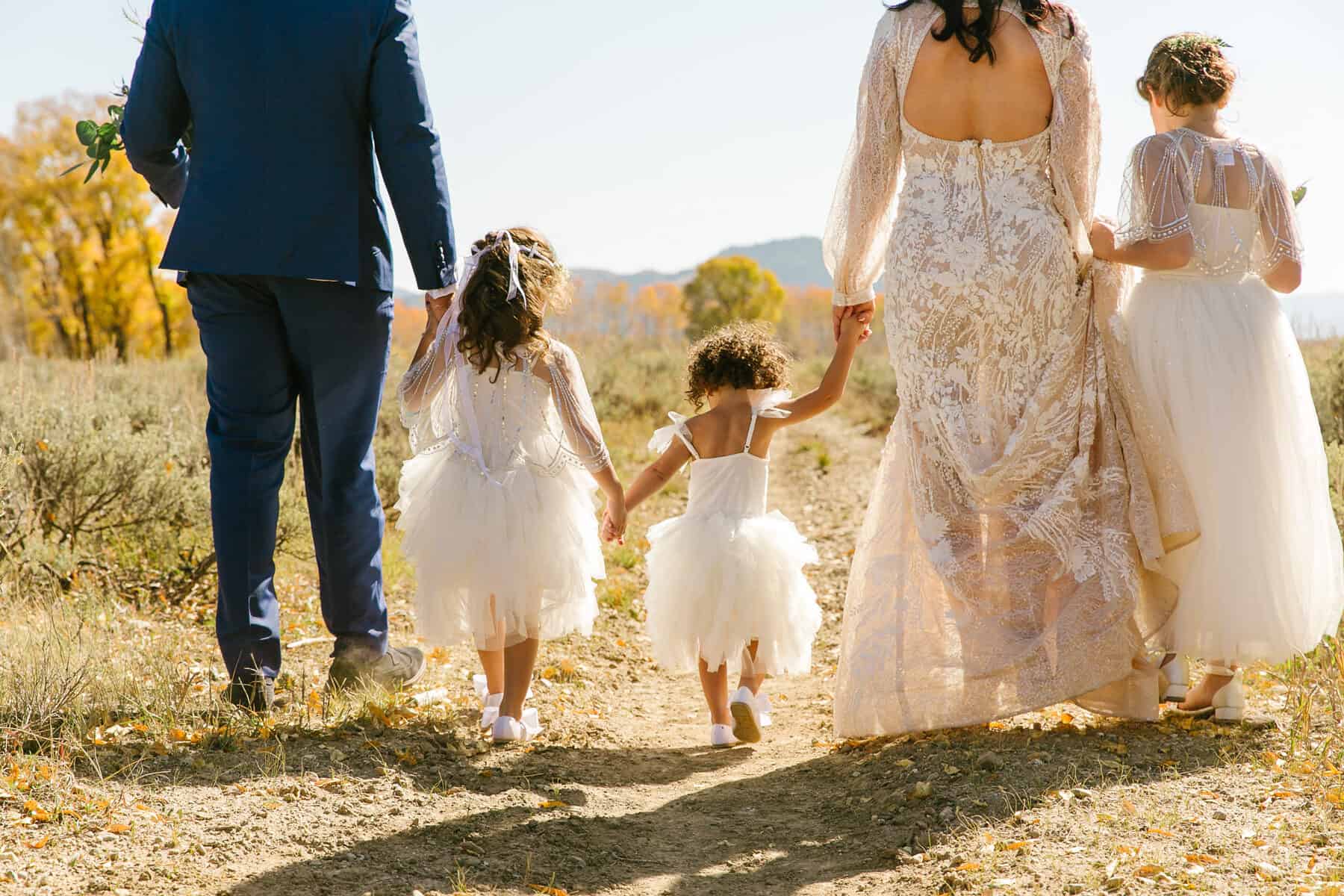 ---
Jackson has Soul
For starters, Jackson Hole provides one of the most naturally beautiful backdrops in the country. All the locals are truly kind-hearted and more than willing to help with recommendations. All I had to do was ask. People on a Jackson Hole-Grand Teton Facebook group recommended items for the welcome bags, and the gentleman working at the Elk Refuge hooked me up with all sorts of literature and maps for our guests. (Seriously. I wish I got his name because he went above and beyond.) Plus, the local waitstaff and retail store clerks I encountered were top-notch.
THE DETAILS
Wedding Date: October 1, 2021
Ceremony Location: Teton Mountain Lodge & Spa, Reception Location: Hotel Terra, Officiant: Chris Kraker, Photographer: Hannah Hardaway, Consultant: Alison Kyle of Destination Jackson Hole, Videographer: Taylor Mountain Films, Hair and Makeup: Tanya Crocker, Florist: The Briar Rose, Music: Steady Jake DJ, Caterer: Spur Catering, Dessert Chef: Absaroka Cake Company, Provisions Jackson Hole, Rental Service: Canvas Unlimited, Stationery Design: Artifact Uprising, Basic Invite